2010 App Gems Awards: Apps Of The Year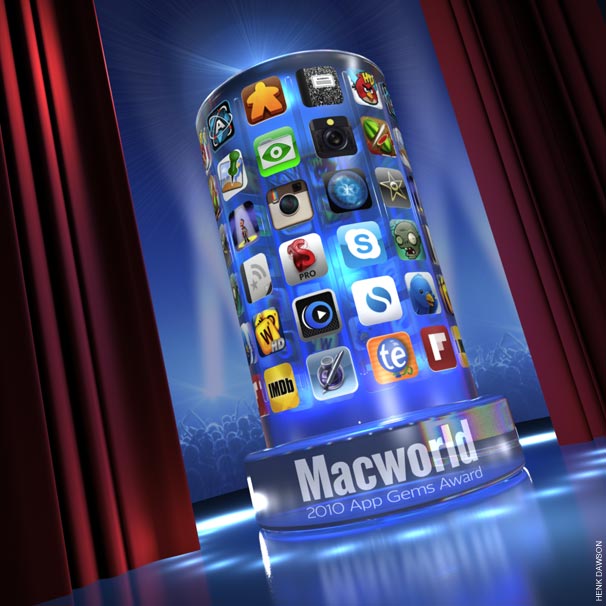 At this Christmas for sure many people around the world got an Apple product as a gift, iPod Touch's, iPads and iPhones. Also a lot of people already had them and love this great event.
The Macworld App Gems Awards is the great event for everyone that want's to have some great applications new applications on the iOS devices. So Here you will have the list of the applications and the prices.
10 Best Reading And Productivity Apps
Reeder for iPad ($5)

Flipboard (free)

GoodReader for iPad ($3)

Atomic Web Browser ($1)

SimpleNote (free)

Elements ($5)

TextExpander ($5)

Skype (free)

Twitterrific (free)



7 Best Media & Photo Apps
IMDB Movies & TV (free)
ZumoCast (free)
iMovie ($5)
SketchBook Pro ($8)
Hipstamatic ($2)
Instagram (free)
Geotag Photos Pro ($4)
7 Best iOS Games Of The Year
Angry Birds HD ($5)
The Incident ($2)
Fruit Ninja (iPhone: $1 / iPad: $5)
Plants vs. Zombies ($3)
Osmos for iPad ($5)
Carcassonne ($10)
Words With Friends HD ($3)
Also, Macworld have the list of applications that they like. You can see it right here
If you have a jailbroken iOS device, MacStories made the list of the best Cydia applications of the year. Here they are:
FullScreen for Safari
FolderEnhancer
FaceBreak
BrowserChanger
OverBoard
AirVideoEnabler
ListLauncher
MyWi 4.0
PhotoAlbums+
Synchronicity
So now you have all the best suggestions of applications and games for your iOS device.
Sources: Macworld – MacStories